Croxdale Road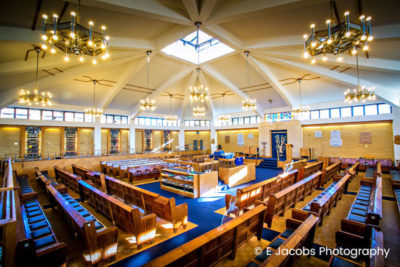 With an average onsite attendance of 600 each Shabbat morning and more on a simcha week, BES@Croxdale is a significant Shabbat morning undertaking. Our options include the main service, Limmud, Hashkama, Nitzan, Atzmaut, youth and a range of children's services for various age groups.
The Main Shul is the largest BES Shabbat morning service, a destination for members of all ages to come together, share in celebrating the many Smachot in our community and enjoy the uplifting experience of hundreds of people praying together. It's a family-friendly service with a kids bookshelf (behind the Bima) and plenty of seating. Although it's occasionally a little noisier than the wardens would like, there is a friendly and convivial atmosphere which many visitors comment as being unique to BES.
At the end of our Shabbat morning services, our community comes together for a weekly Kiddush. Whether celebrating a simcha or just to socialise with other members, our Kiddushim are renowned for their quality and innovation.