Kaytana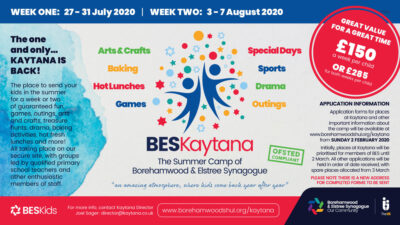 Kaytana is still going ahead this summer whilst following government guidelines and strict health and safety and hygiene control measures.
Further information on these changes and measures at the bottom of this page.
A handful of places have become available in Group 2 (children going into Years 2 and 3 this September) for week 2 of camp and for Group 3 (children going into Years 4, 5 and 6 this September) for both weeks. 
---
BES Kaytana Camp is the place to send your kids in the summer for a week or two of guaranteed fun, games, outings, arts and crafts, treasure hunts, drama, and baking activities, including hot fresh lunches! All taking place at Borehamwood & Elstree United Synagogue. Groups are led by qualified primary school teachers and other enthusiastic members of staff.
Click here to view a large version of the flyer.
Dates
WEEK ONE: 27 - 31 July 2020
WEEK TWO: 3 - 7 August 2020
Timings
Monday - Thursday: 9.30am - 3.30pm
Friday: 9.30am - 1.00pm
Child Applications
For child application forms, please click here for an editable Word document or here to complete the application form by hand.
PLEASE NOTE THE NEW ADDRESS AT END OF APPLICATION FORM FOR COMPLETED FORMS TO BE DELIVERED TO.
FORMS CAN NO LONGER BE DROPPED OFF AT 17 TILEHOUSE CLOSE.
Groups
Group 1: For children going into Reception and Year 1 in September 2020

GROUP 1 HAS BEEN CANCELLED THIS SUMMER
Refunds will be arranged in due course

Group 2: For children going into Year 2 and Year 3 in September 2020  
Group 3: For children going into Years 4, 5 and 6 in September 2020
Cost
£150 per week per child
£285 for two weeks per child 

Staffing
No further applications being taken for the Assistants role at this year's camp.
Please note that Kaytana is committed to the safeguarding of children. Appointments of Assistants will be subject to an enhanced DBS check.
Contact
For further details contact
---
FURTHER INFORMATION ABOUT THIS YEAR'S AMENDED CAMP
Kaytana 2020 is being amended so that camp can be operated as safely as possible This includes:
NO Group 1 - in order to control and limit numbers on site.
Groups 2 and 3 will be split into equal halves, using 4 different halls on the Shul site - to ensure better cohort distancing.
Entry times staggered by family and managed carefully - to best avoid cross-contamination and to minimise risk.
Exit times staggered by family and managed carefully - to best avoid cross-contamination and to minimise risk.
Staggered lunches - to best avoid cross-contamination and to minimise risk.
No outings for Group 3.
Internal Wednesday activities for both groups - only those that are feasible, with health and safety in mind.
No daily baking activity - to best avoid cross-contamination and to minimise risk.
Staffing numbers restricted but still meeting requirements - to minimise risk.
NO volunteers with groups - to minimise risk.
The same government 'School and Childcare Settings' guidance being followed as in schools.
Site prepared in order to manage the flow of people and control interactions.
Washing and sanitising when entering camp and throughout the day.
More extensive cleaning of the Shul at the end of each day.
Deep clean of the premises each Friday of camp