Kaytana Summer 2022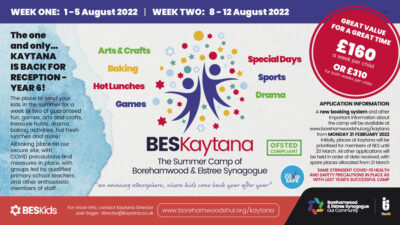 KAYTANA 2022 - NOW RECRUITING STAFF
Are you looking for a 1 or 2-week job or volunteering role this summer?!
Want to earn some summer spending money?!
Kaytana is a fabulous 2-week summer camp based at BES Croxdale Road.With two fun-filled weeks of activities for over 100 children, staff and kids have as much fun as each other!
Kaytana is now recruiting group assistants and volunteers
Group Assistants (aged 18+). Salary range (based on age): £212 - £295 per week
Volunteers (aged 13-17) receive a £50 voucher of their choice.
Week 1: 1st - 5th August
Week 2: 8th - 12th August
Click