Borehamwood and Elstree Synagogue host over 1000 local primary school children at the Jewish Living Experience Exhibition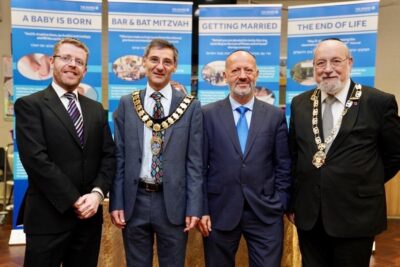 4-19 November 2019: To tie in with InterFaith month, Borehamwood and Elstree Synagogue hosted the Board of Deputies' Jewish Living Experience Exhibition and welcomed over 1000 primary school pupils and their teachers to visit the Synagogue and the Exhibition and learn all about Judaism and Jewish life from a team of 35 enthusiastic volunteers.
Pupils from local schools including Cowley Hill, Summerswood, Woodlands, Saffron Green, Meryfield, Kenilworth and many others enjoyed a tour of the Synagogue with a chance to see inside a Sefer Torah and learn about the different prayers and laws. The volunteers explained about Jewish festivals, the Sabbath, Jewish life cycle events and keeping Kosher. There was also an opportunity to blow the shofar, eat challah and play spin the dreidel.    
On the evening of 14 November, The Worshipful Mayor Cllr Allan Plancey and Town Mayor Cllr Simon Rubner welcomed visitors from a variety of faiths to the Exhibition. Visitors were addressed by Board of Deputies Vice President Edwin Shuker, who gave an overview of the organisation's work. As part of the evening, the synagogue's Senior Rabbi, Alex Chapper, took guests on a guided tour of the synagogue.