Commander of Operation Good Neighbour addresses Borehamwood & Elstree Synagogue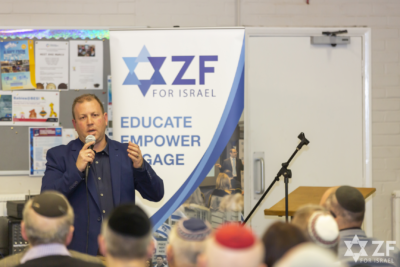 27 February 2019 – Over one hundred members of Borehamwood and Elstree Synagogue and the wider community heard a heart-warming story of compassion from the commander of IDF's Operation Good Neighbour, the mission to provide assistance to Syrians during the civil war.
Lt Col (ret) Eyal Dror who had only recently received clearance from the IDF to speak about his classified mission, spoke about the logistical challenges in enemy territory, massive investment by Israeli government in helping her neighbour, as well as stories of teddy bear collections and life-saving operations for Syrian children. He recounted Israel's mission to help save the Syrian humanitarian group, the White Helmets.
The event was jointly hosted by BES and the Zionist Federation, and was the latest in a series of high profile speakers including Colonel Richard Kemp, Baroness Ruth Deech and former Jerusalem deputy mayor, Fleur Hassan-Nahoum.
Eddie Hammerman, BES board member with Israel portfolio, said: "We were honoured to have Lt Col Dror brief our community. His insight into the region and how Israel's selfless actions might build bridges with her neighbours was incredibly moving and gives us hope for the future. We were proud to be one of the first to hear his story and hope he continues to get this unique narrative out to the world, changing hearts and minds along the way."