Kaytana Camp a huge success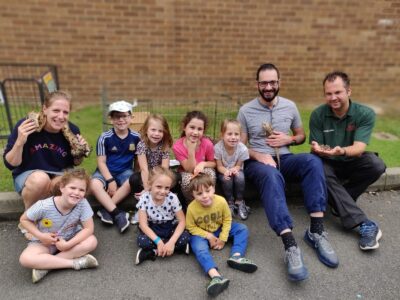 Kaytana Camp 2019 a huge success for Borehamwood & Elstree Synagogue's children
Children at the hugely successful Kaytana Camp run at Borehamwood & Elstree Synagogue have had a wonderful time this Summer. 
110 children age 4 to 10 took part in the Ofsted registered camp each week and came along for lots of fun with their friends. They enjoyed activities including arts and crafts, baking, sports, science and a Shabbat party with Rabbi Chapper.
The first week had a nature theme and the children got hands on with animals and creepy crawlies when the zoo came to visit.
The theme for the second week was Superheroes and the children got active on the bouncy castle, inflatable slide and bungee run. The older groups went to central London for a treasure hunt and saw the sights.
The sell-out camp has been running for over 30 years, catering for children in the Borehamwood community, primarily from Borehamwood and Elstree Synagogue. For the last 10 years, Kaytana has been led by primary school Headteacher Joel Sager and supported by a large number of staff, with the senior leaders all being qualified primary school teachers. 
Joel Sager said: "The camp takes a huge amount of planning and we are so grateful to all the professional staff and volunteers who bring their energy to make the camp so immensely successful. The children enjoyed a wide range of fun activities and songs that reverberate through the rest of the summer holidays and with families coming back year after year."