Seniors' Chanukah Lunch at Borehamwood and Elstree Synagogue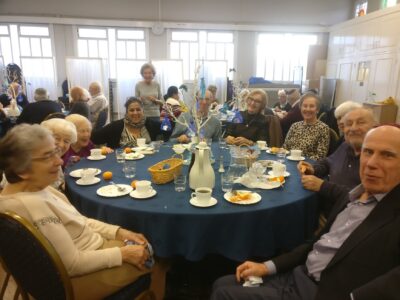 15 December 2019: Chanukah came early to Seniors in Borehamwood and Elstree Synagogue this year, as almost eighty participants and volunteers attended the annual Chanukah lunch. They had a delicious, winter warming three-course meal catered by Eat Me Events.
The welcoming atmosphere was enhanced by music from Paul Gershlick and interactive singing with Rabbi Alan Garber. Rabbi Alex Chapper inspired participants with a message about modern day miracles and an appreciation of life.
Karen Moss, Community Support Coordinator, explained, "In modern society, when many people feel so alone, it is wonderful to create opportunities to get together as a community, chat and share stories. This would not have been possible without the very kind and dedicated volunteers, from as young as five years old, helping everyone to feel special!"