Bat Mitzvah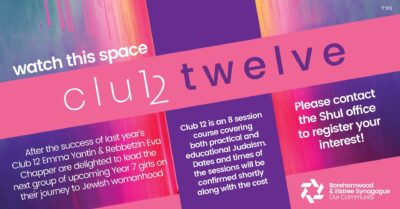 According to Jewish law, once a girl turns 12 years old, she is obligated to observe the mitzvot; hence the term Bat Mitzvah (daughter of the mitzvot). At BES, we celebrate the Bat Mitzvah as a religious milestone in each individual girl's life.
The Bat Mitzvah ceremony varies. Often a Dvar Torah is delivered after the Shabbat service. Some girls have a separate service on a Sunday or weekday. At BES we are very accommodating and have many options to make each girl feel special as she reaches the momentous occasion of entering Jewish womanhood. Rabbi and Rebbetzin Chapper are available to discuss this further.  Please contact them through
For help with constructing a Dvar Torah and to study with a tutor, please call the BES office on 020 8386 5227.
BES runs an exciting, educational and interactive Bat Mitzvah group called Club 12, for girls in Year 7. This is currently run by Rebbetzin Eva Chapper and Emma Yantin. Mums are invited to the sessions too and this forms a great experience for mother and daughter in the run-up to the Bat Mitzvah. Please to register your interest and for more details.